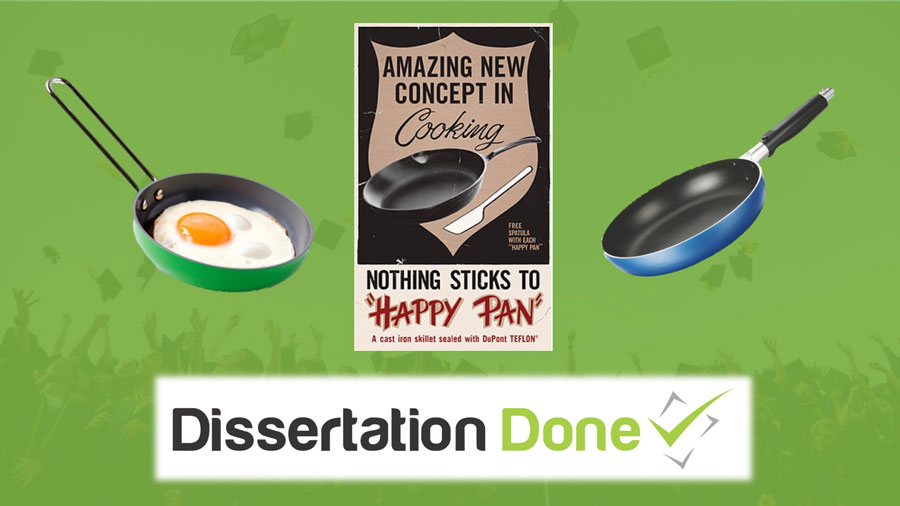 Teflon and Dissertations
April 6th is National Teflon Day. Do you feel like your dissertation is stuck? Here's how to Teflon your dissertation…
Teflon is the stuff (polytetrafluoroethylene) that makes your non-stick pans, well…not sticky. It's also used in all kinds of industrial and healthcare applications as either a lubricant or a non-stick coating. This stuff is slippery.
You want your dissertation to be like Teflon. Don't let it get stuck in committee. You can "Teflon" your presentation by doing a few things up front to ensure your dissertation will slide through relatively unscathed and get approved as quickly as possible.
Follow the rules. I cannot stress this enough. Most universities provide rubrics and handbooks and guidelines and templates. Use them. Your committee members will appreciate you submitting things properly and knowing what their responsibilities include (and don't include).
Always turn your part around quickly. Have you ever tried to get in and out of a restaurant quickly at lunchtime? One way to get it done is to be ready to order food when they come to take your drink order, and then ask for the check when they bring the food.
Dissertations are like that too. Don't wait until the last second to submit your draft. Submit early. Then give them a polite note like, "I know you have until ___ to return my work with feedback, but I would certainly appreciate any earlier feedback if possible."
And then be ready to incorporate their feedback quickly and return it. Don't be the one sitting on your dissertation or being stubborn about what feedback you accept. When you always turn your part around quickly your committee may be more likely to act quickly (and agreeably) on your behalf.
Is your dissertation sticking to the pan? Then click here to schedule a quick, 15-minute chat with me to see if you're a good fit for our Fast Track Your Dissertation Coaching Program. If you are, then I'll invite you to join the fastest group of dissertation students out there and help you to reach graduation a good year or two faster than you would on your own.