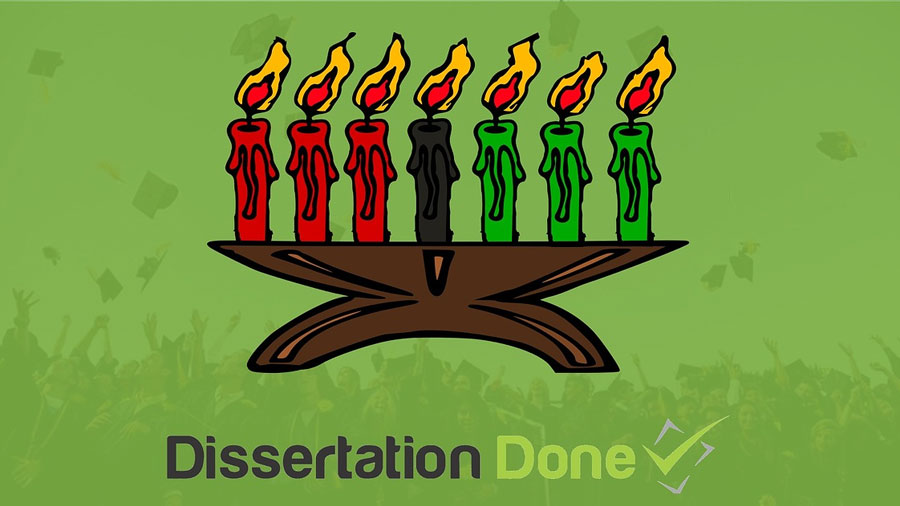 Kwanzaa and Dissertations
December 27th is the second day of Kwanzaa, a seven-day holiday that celebrates seven principles of great importance in African-American culture. It turns out that these principles tremendously important to doctoral students, too…
Kwanzaa celebrates seven important principles. These principles were chosen because of their importance to the African-American community, but their application is universal. All communities can benefit from reflecting on these principles and applying their wisdom, including doctoral students who want to make the world a better place…when they finally graduate!
Umoja (Unity): Develop a support structure that includes other doctoral students, current, past, and even future as a source of strength. Doind so can help you to understand that you are not alone and enable you to leverage each other's experiences for individual and collective gain.
Kujichagulia (Self-Determination): Your dissertation is your responsibility. You will benefit the most from its successful completion, and you must set the tone and tempo in order to move your project forward. Do not blame others, find your own path.
Ujima (Collective Work and Responsibility): Although your dissertation is your own individual work and responsibility, creating a collective consciousness around a shared dissertation process among a community of doctoral students can provide additional motivation and accountability. Succeed individually, together!
Ujamaa (Cooperative Economics): A cooperative of ideas can be every bit as beneficial to you as a doctoral student as an economic cooperative can be to another community.
Nia (Purpose): Doctoral students I talk with every day have a myriad of different goals for their lives as doctors. But, they share two important commonalities: i)nwanting to make the world a better place in some way by giving back and serving and, ii) needing to graduate in order to gain the authority, credibility, and position required to make that impact.
Kuumba (Creativity): The free and open exchange of ideas among dissertation students enhances creativity, producing better solutions to each student's problems.
Imani (Faith): As Henry Ford put it, "Whether you think you can, or you think you can't–you're right." All success and progress flows from positive self-talk and faith in yourself. You have accomplished so much in life already. With the right knowledge, persistence, and support, surely you will be successful in your endeavor to earn your doctoral degree, as well!
Most of the principles Kwanzaa recognizes focus on community. If you feel alone in your struggle, click here to schedule a quick, 15-minute chat with me to see if you're a good fit for our Fast Track Your Dissertation Coaching Program. If you are, then I'll invite you to join the fastest group of dissertation students out there and help you to reach graduation a good year or two faster than you would on your own.