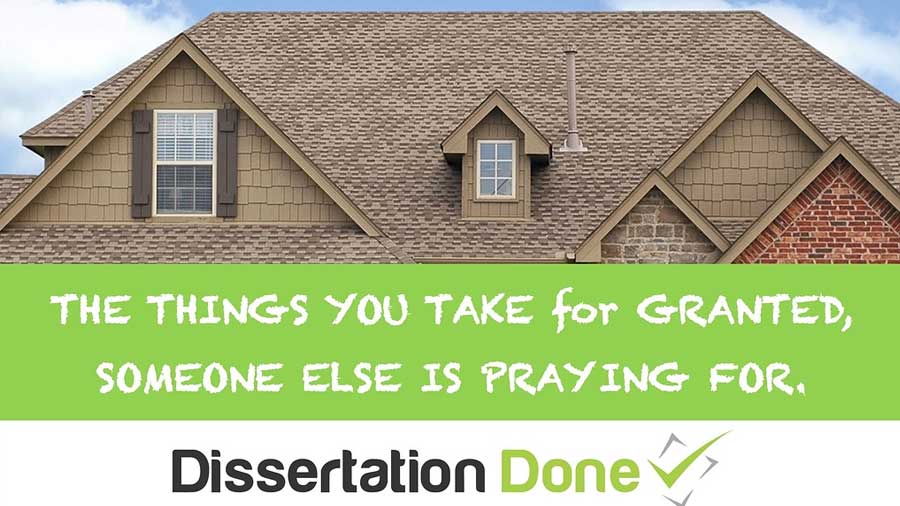 Roofs and Dissertations
December 3rd is National Roof Over Your Head Day. Let's honor this day by acknowledging our good fortune. And, while we're at it, are you putting the roof on your proposal too soon?…
---
Worldwide, over 22% of people lack adequate housing. More than 12% of the world's population goes hungry.
The next time you get stressed about your dissertation committee taking too long to return your draft, or become frustrated that you do not understand what your committee wants, be grateful that you are fortunate enough to have these problems.
Problems are problems. No one's life is perfect, so everyone worries about something. But, some problems are clearly better to have than others.
Be grateful for the problems that you have.
Be grateful that you have a roof over your head…
And, food in your belly…
And, the opportunity to earn a doctoral degree!
---
Speaking of roofs, I'll like to take a quick moment to bring up an odd thing I've noticed about the many universities instruct doctoral students to begin their dissertations.
How many of you were told to start by picking a topic and writing Chapter 1?
Chapter 1 of the dissertation is the introduction. It might more approriately be called a summary, because it highlights the entire proposal. It both positions the study against the existing research firmament and previews many elements to be presented throughout the proposal.
In business parlance, this type document is called an executive summary. And, summaries are always the last thing and author writes, not the first. It's kind of like building a house and starting with the roof, rather than the foundation.
If you'll like to make sure that your foundation is in order, click here to choose a time for us to take a look together.