Balance, Stick-to-It-iveness, and Planning with Dr. Preston Cherry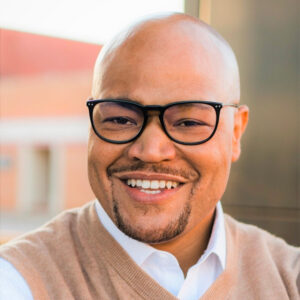 Preston Cherry, Ph.D. serves as Assistant Professor of Finance in the Austin E. Cofrin School of Business at the University of Wisconsin – Green Bay. Dr. Cherry is the Founder & President of Concurrent Financial Planning, LLC, a comprehensive financial planning firm serving households and business owners across generational lines. In his 14+ years of industry experience, Dr. Cherry has served in lead and internal financial planning roles, institutional retirement sales, and as RIA co-investment manager with $120M in firm assets.
He has been published in the Wall Street Journal, ThePennyHoarder.com, The New York Magazine blog The Cut, and the Lubbock Avalanche-Journal. In addition, Dr. Cherry writes poetry; plays tennis; hikes; and enjoys his vinyl music collection, board games, and "good" films. He loves to smile and laugh, and according to his niece, "is the best uncle in the world."
Here's a glimpse of what you'll learn:
The best "Reason Why" to earn your doctoral degree ever: vanity license plate!
The importance of being true to your own goals
How to leverage your classes to jump start your dissertation
The power of partnering with someone to to offset your weaknesses
The importance of preparing your post doctoral career before you graduate
In this episode…
Dr. Preston Cherry's early career in the financial sector brought a number of successes, but he felt his true calling was elsewhere. As he thought about his future, he began "dreaming up." He wanted to be a speaker, a researcher, a business owner, and he decided the best path to achieving his dreams went through a doctoral program.
In this episode of An Unconventional Life, Dr. Preston Cherry discuss the variety of goals and objectives he has observed in his students and colleagues, the importance being true to your own goals (and not comparing yourself to others), and the necessity of intentionality in pursuing your goals and objectives. Dr. Cherry and Dr. Strickland also discuss their experiences with negative feedback during their doctoral studies and how they learned to learn from it.
Don't miss our 20th episode. And, if you haven't subscribed yet, do it now!
Resources Mentioned in this episode
Sponsor for this episode…
This episode is brought to you by Dissertation Done, America's #1 authority in dissertation completion for working professionals.
Founded by Dr. Russell Strickland, Dissertation Done serves people in two ways:
If you're struggling with your dissertation, getting ready to start your dissertation, or just plain wanting to get your dissertation done as soon as possible, go to www.dissertationdone.com/done and Let's Get Your Dissertation Done
If you're busy living your Unconventional Life and have a message that you want to share, maybe you should join our Expand Your Authority Program to become a published author. Go to www.dissertationdone.com/book and let me know that you'd like to talk about Expanding Your Authority.
Visit www.dissertationdone.com to learn more about our other services and leave a message or call them at 888-80-DR-NOW (888-803-7669) to schedule your free 30 to 45-minute phone consultation.
Episode Transcript
Disclaimer: This transcript is here for your reading convenience. It was created by machines and may (a-hem) contain some errors. If you email us about these errors, the machines will undoubtedly find out. I hope they won't get angry.
Intro [00:00:03]
Welcome to An Unconventional Life, a podcast where we share stories about the crazy one percent out there who earned their doctoral degrees and then went on to use them in crazy, cool, unique and unconventional ways. Here's your host, astrophysicist and teacher, author, dissertation coach and more, Dr Russell Strickland.