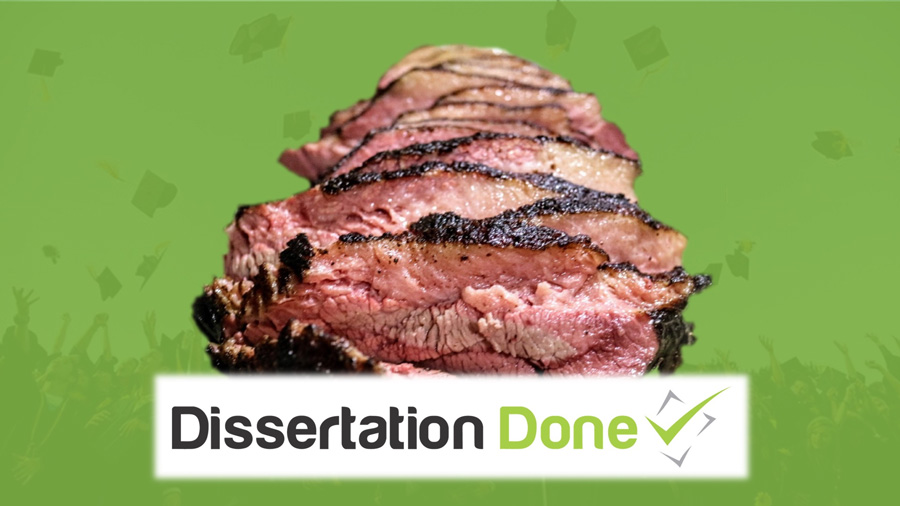 Brisket and Dissertations
May 28th is National Brisket Day. Do you know how to make great brisket? The same way you get you dissertation done…
Have you ever had brisket? If you've eaten it but never cooked it yourself, you might think it's a very tender cut of meat. Actually, brisket is a very tough cut of meat. It's best cooked slowly over indirect heat, just like your dissertation. Brisket is full of connective tissue, and that time is needed for it to break down and become tender and delicious.
Dissertations are like this too! They're long, detailed, and have lots of connected pieces. If you slowly and methodically break them down, they aren't too difficult to complete.
You really just need to have a plan and stick with it. Ten – fifteen hours a week, every week for about a year gets the job done for your dissertation. But, if you don't start with the right plan, if you try to hurry things along, your dissertation is going to be so tough that you won't even be able to take a bite out of it!
So, how do you break this tough thing down? When cooking a brisket, it's not too complicated, because you just have to leave the meat on the grill for a long time — "low and slow" is the BBQ pit master's mantra.
When it comes to your dissertation, you're the coals…applying steady, consistent heat throughout the process. You can't flare up. You can't fizzle out.
I recommend that all of my Fast Track Your Dissertation students invest two – three hours a day, five – six days a week tenderizing their dissertations.
Have the right plan in place. Use the right spices to bring out the right flavor together. Then, keep the heat going — low and slow. And, remember, you're not looking to win a blue ribbon at the county fair. Just make sure your dissertation is good enough to eat!
Is your dissertation still coming out a bit tough? Want a dissertation that you can bring to the picnic for you and your committee to enjoy? Click here to schedule a quick, 15-minute chat with me to see if you're a good candidate for our Fast Track Your Dissertation Coaching Program. If you are, then I'll invite you to join the fastest group of dissertation students out there and help you to reach graduation a good year or two faster than you would on your own.