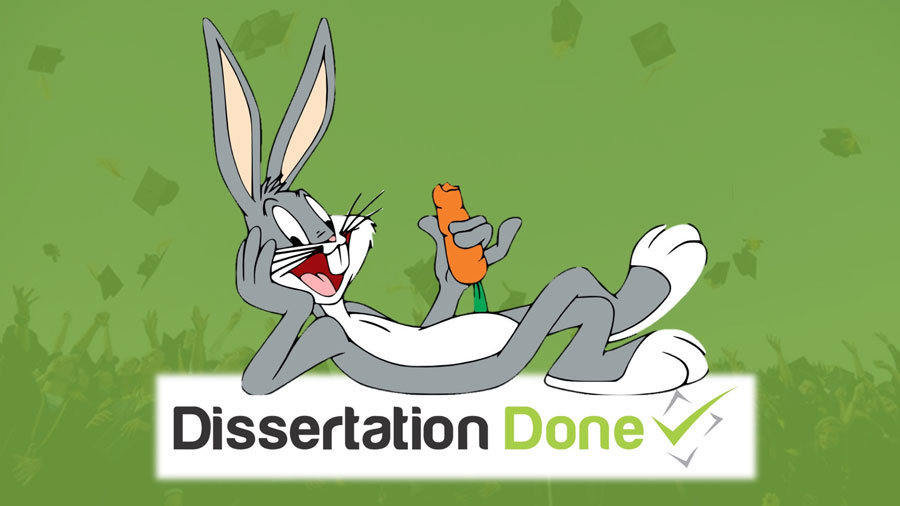 Bugs Bunny and Dissertations
April 30th is National Bugs Bunny Day! Bugs Bunny has been entertaining audiences since he first appear in the short film, Porky's Hare Hunt, on this day in 1938. And, he's been inspiring doctoral students ever since…
Eh… What's up, doc?
—Bugs Bunny
Don't let another National Bugs Bunny Day pass you by without making sure Bugs Bunny is talking to you, doc!
But, is there anything real we can learn from Bugs Bunny to help get that dissertation done? Of course!
Here's Looney Tunes producer & director, Bob Clampett, channeling his inner Bugs Bunny to explain the character's success in "life":
Some people call me cocky and brash, but actually I am just self-assured. I'm nonchalant, im­perturbable, contemplative. I play it cool, but I can get hot under the collar. And above all I'm a very 'aware' character. I'm well aware that I am appearing in an animated cartoon….
And sometimes I chomp on my carrot for the same reason that a stand-up comic chomps on his cigar. It saves me from rushing from the last joke to the next one too fast. And I sometimes don't act, I react. And I always treat the contest with my pursuers as 'fun and games.' When momentarily I appear to be cornered or in dire danger and I scream, don't be consoined – it's actually a big put-on.
Let's face it, Doc.
I've read the script and I al­ready know how it turns out.
—Bugs Bunny (as imagined by Bob Clampett)

Love it! He's read the script! And, that makes him self-assured!
You know what? The very first thing we focus on with our students here at Dissertation Done is to make sure that they know what they're doing…literally. We make sure that they have a detailed plan for completing their study — that they have a script!
Just as Bugs Bunny said, it's a lot easier to "play it cool" if you have a script. Bugs Bunny literally stared down the barrel of a loaded gun over and over. But, he default reaction wasn't to stress out. More often than not he simply leaned against the barrel, chomped his carrot a bit, and disarmed his would-be killer with a casual "What's up, Doc?"
You should carry this same attitude throughout your dissertation project. Read the script. Play it cool. Chomp on your carrot. And treat your dissertation like fun and games until it is done! After all, your script has got you finishing your dissertation, right? If it doesn't, you'd better rewrite the script!
If you need help rewriting your script, click here to schedule a quick, 15-minute chat with me to see if you're a good fit for our Fast Track Your Dissertation Coaching Program. If you are, then I'll invite you to join the fastest group of dissertation students out there and help you to reach graduation a good year or two faster than you would on your own.