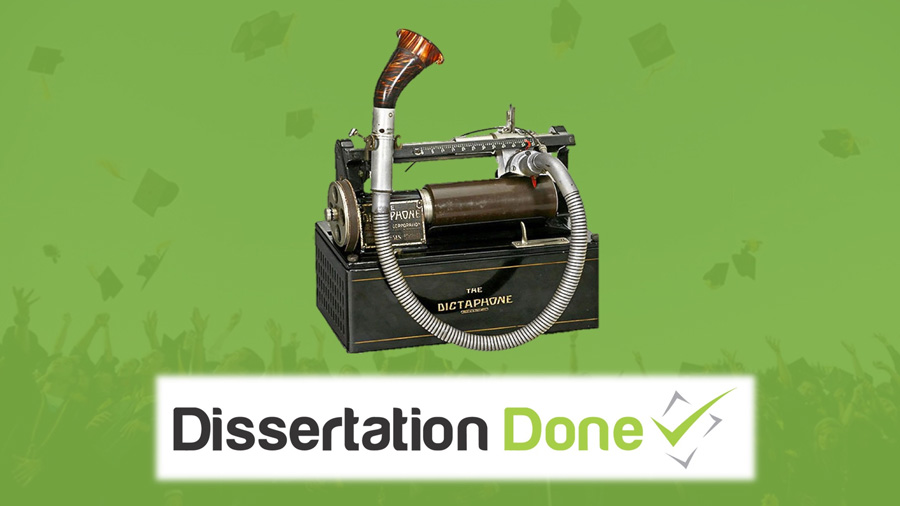 Dictaphones and Dissertations
April 25th is Charles Sumner Tainter's birthday! Who? The inventor of the Dictaphone, a key piece of technology that made modern qualitative dissertations possible…
What in the world is a Dictaphone?
A Dictaphone, or dictation machine, used a wax cylinder to make voice recordings. These recordings could be played back later for transcription. A useful invention, because it allowed a person to make a recording that could be transcribed later. Before the Dictaphone transcriptions could only be created by hand in real time…and there was no way to check these transcripts for accuracy!
The Dictaphone was part of a wave of inventions that built upon each other in the 1900s to make the process of documenting thoughts and events easier.
Nowadays most of us carry a voice recording device in our pockets as part of a smart phone. If your study utilizes interviews, you will need to transcribe your recorded interviews. Think how cumbersome and expensive a study with interviews would be if you had to hire note takers to transcribe the proceedings live!
Even if you don't have to record interviews as part of your study, take a minute to think about what inventions make it possible for your to do your dissertation.
Calculations used to be carried out by hand and then by feeding stacks of punched cards into a room-sized computer. Dissertations used to be written long hand and then typed on a typewriter…and each copy was retyped by hand.
Thank goodness for spreadsheets and word processing, right?!
It takes 10-15 hours of focused, productive work each week to complete your dissertation in about a year. But, without the work of Charles Sumner Tainter and the inventors that came before and after him, it would certainly  take much longer!
Are you having trouble finishing your dissertation even with the most new-fangled gadgetry and modern technology? If so, click here to schedule a quick, 15-minute chat with me to see if you're a good fit for our Fast Track Your Dissertation Coaching Program. If you are, then I'll invite you to join the fastest group of dissertation students out there and help you to reach graduation a good year or two faster than you would on your own.