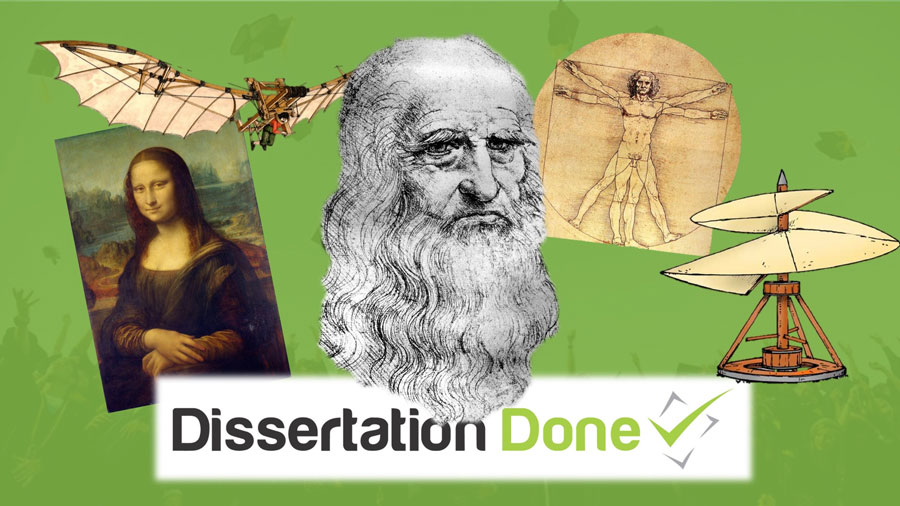 Da Vinci and Dissertations
Happy birthday to Leonardo da Vinci, painter of the Mona Lisa, advisor to the dukes of Italy, and inventor of the parachute, a transportable bridge, and even a robotic knight! Here's how to apply Leonardo's genius to your dissertation…
Do you wish you could get Leonardo Da Vinci to finish your dissertation for you? He was the rare human who is regarded as a genius in the kind gaze of history but was also widely recognized for his talents (and good looks) during his own time.
Leonardo da Vinci, an artist of outstanding physical beauty, who displayed infinite grace in everything that he did and who cultivated his genius so brilliantly that all problems he studied he solved with ease.
— Giorgio Vasari
Well, that's quite the compliment from one of his contemporaries! If Leonardo was still around, maybe he would agree to help you with your dissertation since he was such a fantastic guy. Since he isn't, here are some of his words of wisdom that you can apply to your dissertation:
---
Simplicity is the ultimate sophistication.
—  Leonardo da Vinci
Making your dissertation overly complex isn't going to impress anyone. On the contrary, it's just going to slow you down. It's very important that you work to keep this simple.
A couple of research questions. No studies with qualitative andquantitative methods. One round of data collection. Simple.
Your goal is to get in, get out, and graduate. The more layers of complexity, the more likely you'll get bogged down and your dissertation will be a meandering mess instead of clear and concise.  Listen to Leonardo. Keep it simple.
---
I have been impressed with the urgency of doing. Knowing is not enough; we must apply. Being willing is not enough; we must do.
—  Leonardo da Vinci
Another quote related to simplicity. How? Well, complexity takes over when you continue to explore your topic longer than you should.
Look, it's great that you are interested and curious about your topic. Anyone who gets to the doctoral level is certainly capable about geeking out, myself included. Hell, Da Vinci geeked out on things all the time. But, he also knew when to rein it in to get thing done!
If your research constantly leads you to new questions and you feel compelled to track down those answers, too, you're never going to get anywhere.
It isn't enough to be knowledgeable about your topic.
You must apply that knowledge.
Share it with others.
Write it down.
Get your dissertation done!
Are you struggling to keep your dissertation simple? Click here to schedule a quick, 15-minute chat with me to see if you're a good fit for our Fast Track Your Dissertation Coaching Program. If you are, then I'll invite you to join the fastest group of dissertation students out there and help you to reach graduation a good year or two faster than you would on your own.