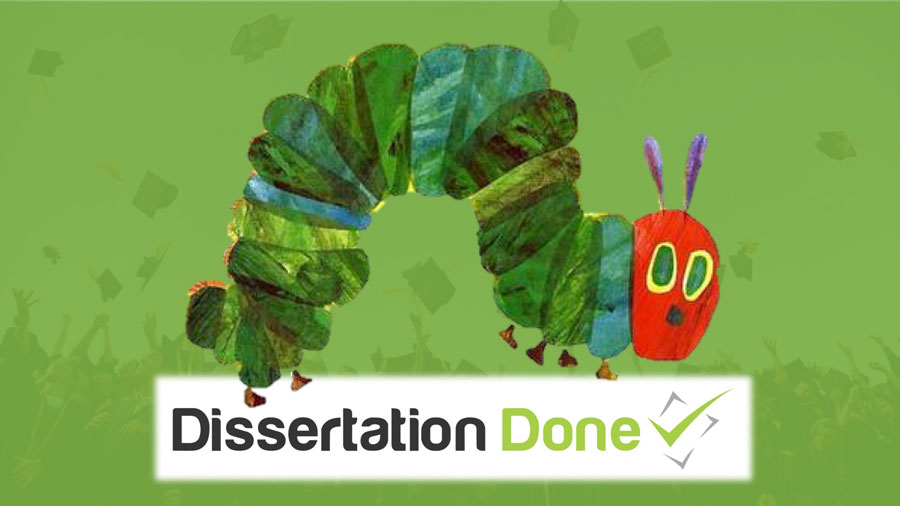 Children's Books and Dissertations
April 2nd is Children's Book Day. Believe it or not, successful children's books have a lot in common with successful dissertations…
"Wait just a minute there Dr. Strickland! My dissertation committee would run me right out of school if I tried to submit twelve pages with a few words and a lot of pictures!"
Fair enough. But, here's where your dissertation should be just like a children's book: clarity. If you have children you probably already know the book The Very Hungry Caterpillar by Eric Carle (you might even have it memorized). If you don't know it, that's fine, because I can summarize it for you easily, from memory:
Egg hatches and caterpillar comes out.
Caterpillar is hungry and starts to look for food.
Every day for a week, caterpillar finds larger and larger piles of delicious food and eats his way through each one.
Caterpillar has a stomach ache.
Caterpillar eats a leaf and feels better.
Caterpillar wraps himself up in a cocoon.
Caterpillar turns into a beautiful butterfly.
A good children's book is very clear in its story. Children are not confused about what's happening. Adults and children can often remember the entire story…forever. It's not easy for authors to write this way. After all, making the complex simple is one of the most difficult endeavors in communication of all sorts.
I would not give a fig for the simplicity this side of complexity, but I would give my life for the simplicity on the other side of complexity.
—Oliver Wendell Holmes, Jr.
Doctoral dissertations usually range between 150 and 200 pages. Students often struggle to simplify their topics so that they can develop their studies. Even children's book authors can take a long time to get their stories simple and clear.
Let's put it this way: if you are a novelist, I think you start out with a 20 word idea, and you work at it and you wind up with a 200,000 word novel. We, picture-book people, or at least I, start out with 200,000 words and I reduce it to 20.
—Eric Carle, The Very Hungry Caterpillar
Try taking a cue from a children's book author. What is the simple message you are trying to convey? Can you remember it? If not, it might be time to pause and find some clarity.
But, how do you develop clarity? I advise you to start with a detailed description of what you want to do for your dissertation. I don't mean a topic. I mean a plan. Once you've framed out what you're going to do for your dissertation, you have a foundation to build on. The plan enables you to develop your 20-word description of your dissertation, as well as your 200,000 words…well, 40-50,000 anyway.
Still stuck on this side of complexity? We can help! Click here to schedule a quick, 15-minute chat with me to see if you're a good fit for our Fast Track Your Dissertation Coaching Program. If you are, then I'll invite you to join the fastest group of dissertation students out there and help you to reach graduation a good year or two faster than you would on your own.